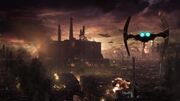 the southeast asia campaign of the mortville-pacific sauria war is a campaign fought in 4 countries Vietnam, Laos, Cambodia and Thailand. the coalition forces along with pacific saurian forces have repelled this assault on the region. numerous countries including China, azerbaijan, germany, brazil and others have called mortville's brazen attack on southeast asia 'totally barbaric' and demanded the warring parties to cease fire.
Ad blocker interference detected!
Wikia is a free-to-use site that makes money from advertising. We have a modified experience for viewers using ad blockers

Wikia is not accessible if you've made further modifications. Remove the custom ad blocker rule(s) and the page will load as expected.