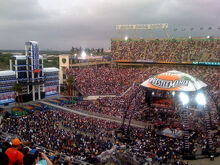 the WrestleMania XXIV post-match attack was an unprovoked attack on the citrus bowl in orlando, florida by the SV revolutionary regime that injured 45 people. SV forces tried to explode fireworks inside the autistic embassy but the SV ambassadors were taken under arrest by embassy security forces. 14 GAI agents were killed by SV mercenaries jim cromwell-mcarthur and maggie nuggieburger.
IAR forces responded quickly and blown half of SV's cuban invasion force to smithereens. and raided SV command posts and made arrests. this attack on a sporting event was met with worldwide condemnation and a demand the SV withdraw from all territories illegally conquered.
South Vermillion-Autisitc Relations
Edit
Invasion of Thousand Trails and the Establishment of a new regime
Edit
6/11 Attacks and direct United Nations and NATO intervention
Edit
Middle School Dilemma
Edit
SVs Vietnam Escalates
Edit
Juntao storms and Sanctions against SV
Edit
planning of the Attack
Edit
when they book match the SV Predator stalks its prey
Edit
SV deployment of Missiles and Troops to the Everglades
Edit
Autistic Wars in Manchuria, Kosovo and Transkei
Edit
Missiles Reported
Edit
SVs Finger is on the Trigger
Edit
WrestleMania XXIV
Edit
Attack during the Bunnymania match
Edit
an Attempted Autistic Embassy Attack
Edit
the Stinger Missiles Attack WrestleMania post-show Fireworks
Edit
Autism Strikes Back!
Edit
GAI Agents dead?
Edit
Florida Keys Besieged
Edit
Peeves the Traitor
Edit
SVs Final push
Edit
Aftermath
Edit
International Reaction
Edit
Afghanistan
Albania
Algeria
Argentina
Armenia
Aruba
Australia
Austria
Avonlea
Azerbaijan
Bahamas
Bahrain
Bangladesh
Bavaria
Belarus
Belgium
Benin
Bolivia
Bosnia and Herezegovina
Botswana
Brazil
Brunei
Bulgaria
Burkina Faso
Canada
Cold River
Conch Republic
Czech Republic
England
Genoa
Iran
Iraq
Israel
Japan
Mortville
Naples
Northern Ireland
Ottoman estates
Ottoman empire
Pacific Sauria
Prussia
Republic of Ireland
Russia
Saxony
Scotland
Serbia
Sicily
Soviet Union
Sweden
United Kingdom
United States of America
Yugoslavia
Wales
Wurttemberg
Ad blocker interference detected!
Wikia is a free-to-use site that makes money from advertising. We have a modified experience for viewers using ad blockers

Wikia is not accessible if you've made further modifications. Remove the custom ad blocker rule(s) and the page will load as expected.